Escape from frames!




.
This bow is for all the service men and women
who are still away from their homes!


Please sign my guestbook!
If you find it not working(again), please send me some moo mail so I'll know you were here!



| | |
| --- | --- |
| | Please join the Cow Appreciation Campaign! |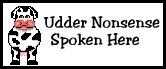 Please do not "borrow" any images from this website without my permission!

If you'd like to make a link to this page, you can use either the heading banner or this milkcan logo.
My sweet hubby made them and the signs up top for me!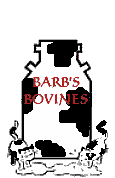 My URL: http://move.to/the.moos

I got it for free at http://come.to
My cows have been visited 1225 +
times!